RATING: 3.67     |     SALES: 161
LIVE PREVIEWBUY FOR $56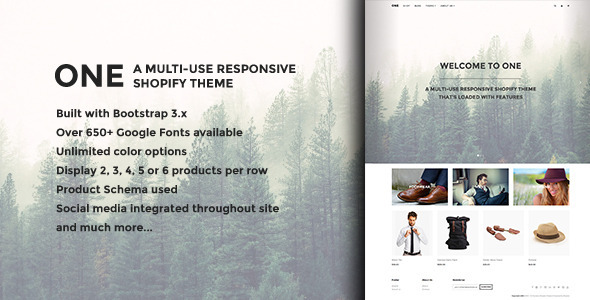 ONE is a multi-use responsive Shopify theme created with Twitter's popular Bootstrap 3.x framework.
This theme comes loaded with features to create a unique, one of a kind store to help you sell your products. Featuring a full page carousel, sections to feature specific collections and alter each collection page to have either two, three, four, five or six products per row.
Fully responsive, so it looks great on a desktop, tablet or mobile device
Upload your own logo and favicon
Over 650+ Google Fonts available
Add up to eight full screen slides in the home page carousel
Showcase a list of collection or products right on the home page
Unlimited color options
Display 2, 3, 4, 5 or 6 products per row
Product Schema used to help search engines
Social media integrated throughout site
Display related product
Individual and customizable sidebar on Collections, Blog and Content pages
Add your logo and colors to the checkout page
Other Shopify Themes
Updates
-- 23 March. 2015

Updating theme to use variant images 

  Update the product.liquid files through your admin panel
  End Result- http://docs.shopify.com/manual/your-store/products/variant-images


---
Product Author:enjoythemecompany